How To Publish Using FrontPage FTP Mode
When your FrontPage web is ready to be published on the World Wide Web, the FrontPage Explorer makes it easy for you to transfer the pages and files to your website.
To Publish the Current FrontPage Web
Click 'Publish Web" inside FrontPage Editor.



The Publish FrontPage Web dialog box is displayed. In this dialog box, type in your domain name (don't forget the 'http', e.g. http://www.yourdomain.com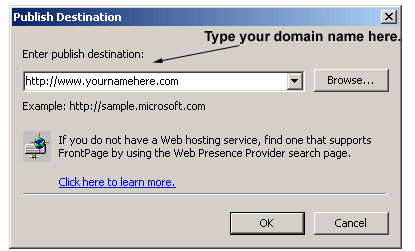 Frontpage 2000 users publish directly to
www.yourdomainname.com


| | |
| --- | --- |
| Below is a snapshot for Cobalt users | Below is a snapshot for Plesk users |

You will then be asked to enter your username and password. Frontpage User name for Cobalt user is always 'webmaster', Frontpage user name for Plesk user is always the 'FTP login'

Frontpage password for both Cobalt and Plesk user is the FTP password we emailed you.

The Frontpage program will then publish all files to the your new account. Remember to name your main or first page

index.html so that page is displayed when you visit your site via web browser. Also keep your filenames in lowercase letters.